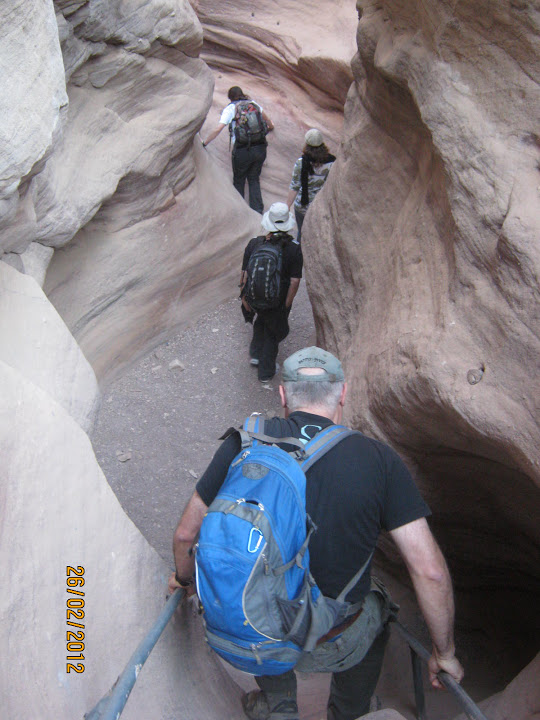 ...
My name is Sheng ( Simon ) Jin, an enthusiastic devotee of Jewish culture and history from Shanghai, China. My wife and I had a breathtaking and unforgettable trip throughout the Holy Land of Israel in April/May 2017. And here I'd like to share the stories of Mr. Haggai Golan, our tourist guide in Jerusalem.
When we first met Haggai, an IDF veteran and now having started new career as a tourist guide in Jerusalem, the first sentence we heard from him was "Welcome to Jerusalem, the eternal and undividable capital of Israel", by which we could perceive strongly his feeling of patriotism.
During our visit of Western Wall & Tunnel, Davidson Center, City of David and Israel Museum, Haggai indicated profound knowledge and serious attitude to meet our request of better understanding the history back to biblical time, and we were so impressed by his narrative in both English and Chinese language! And during exploring the Hezekiah's Tunnel and HaShiloach Pool, Haggai showed his full energy to climb and walk in the hill paths that we could hardly follow up his steps, even though I was almost 20 years younger than him!
Another short episode at Via Dolorosa: When we came out of Western Wall Tunnel and were wandering near Damascus Gate, I looked at a grocery booth owned by a Muslim lady. I couldn't tell a name of a vegetable that I'd never seen. So I asked Haggai. However, when Haggai bended over to check it, the Muslim lady looked outraged and shouted to him "Go away! Don't touch!" I was shocked by her behavior and explained "I'm a Chinese visitor! I just wanted my guide to tell me what the vegetable is!" But Haggai just shrugged and smiled and went away. I asked Haggai if he felt being insulted. His answer was so moving and gentle, "I don't blame her…We are anyway the neighbors living in the same city…" Haggai had showed a spirit of tolerance, which is very much needed to unlock the dead knot between Jewish and Palestinian people under current situation!
One more touching moment was at Yad Vashem: at the Hall of Names, Haggai suddenly stopped narrative and started sobbing. He told us that he was thinking of his grandparents who lost their lives at Auschwitz. Much more tragically, by that time, all his uncles and aunts had already immigrated to Palestine. But one of his aunts, the youngest daughter of his grandparents, went back to Europe to look after his grandparents. Unfortunately, she could not have chance to escape Nazi's hunt, and died along with her parents at the death camp… We felt at that moment our hearts were beating together with Haggai, and we appreciated him so much to connect us with the fate of Jewish nation so closely and gave us an unforgettable lesson!
Besides his professional guiding skill and impressive and touching stories, Haggai was so thoughtful that he prepared home-made mint tea for us every day! And he offered an extra and special night tour in the community of Mea Shearim for us to experience the Hassidic lives, which had turned my book knowledge into real life! More exciting, Haggai invited my wife and I to join the Sabbath dinner with his son's family ( He was busy at that night and didn't join us ) so that we had opportunity to witness how the modern orthodox Jewish observed the law told by Torah – another example for me making the "knowledge in book into real life".
I hope that my above writing has presented vividly a real Mr. Haggai Golan, who I believe not only represents himself, but also a great citizen of modern Israel: Knowledgeable, persistent, diligent and dedicated, hardworking, tolerant, sympathetic and thoughtful. I know Haggai is applying for tender of ministry of tourism. I strongly believe that his understanding to China and good skill of speaking Chinese language would be attracting and servicing the Chinese tourists, and be contributing to the course of Israeli tourism!
Should you have any more questions, please feel free to contact me at my email address: simon@buyeetextiles.com
Thank you and best regards,
Sheng ( Simon ) Jin
Shanghai, China
Dear Haggai
My family and I would like to express our sincerest and deepest gratitude for the wonderful experience we had during our tour of Israel last week with you as our tour guide.
Your knowledge and explanations of the historic sites we visited were exemplary. We all learnt so much about the incredible places and especially of the fantastic cultures/religions including Hebrew, Christian and Muslim and also the many historic events involving the Israelites, Pharaohs, Babylonians, Assyrians, Philistines, Arabs, Greek, Roman, Byzantine, Persian, Crusaders, Mamluk, Ottoman, French and British.
Your energy and enthusiasm were inspiring as well as hugely entertaining.
We particularly valued your kind and patient manner and your ability to explain the very complicated events and cultural interactions with a clear and informative approach.
The 3-day tour of North Israel including Haifa, Caesarea, Acre, Kfar Rosh Hanikrar, Tiberius, Nimrod, Banias, Magdala, Nazareth, Sea of Galilee, Capernaum, Mosaic Synagogue, Golan Heights, West Bank finishing off with a swim in the Dead Sea were outstanding. And to be able to see into Lebanon, Syria and Jordon allowed us to appreciate the political complexities of the region.
It was only natural that after the 3-day tour of the North all of us including my wife, 2 boys and I were desperately keen that the company Tourist Israel ensured that you would be our tour guide for the remainder of the tour of Jerusalem, the highlight of our visit to Israel, including the Western Wall, Al-Aqsa Mosque, Qubbat Al-Sakhrah, Via Dolorosa, Church of the Holy Sepulchre, walls of Jerusalem, Temple Mount, Mount of Olives as well as the Muslim, Christian, Armenian and Jewish quarters of the Old City finishing with a visit to the Israeli National Museum
We were all so pleased the tour company was able to arrange for you to be our guide as our wonderful memories of this day and of your guidance will stay with all of us for many many years.
We were especially impressed with your knowledge and unique ability to express all of the different religious activities and events in an intellectual and thoughtful manner that was respectful, understanding, appreciative, tolerant and kind.
On this last day of our tour, we also had the privilege of meeting and having coffee with your wife who I understand has a very difficult and challenging job of caring for disabled children. She was equally inspiring! Please thank her also for our wonderful memories as I know you were both very busy having to rush to your grandsons Bar Mitzvah that evening and make arrangements for Shabbat the following day.
Words are not enough to express our deepest thanks for providing us with a wonderful experience and long lasting memories of a truly inspirational few days.
I have already made recommendations to many of my friends, colleagues and family to contact you should they ever in the future plan a visit to the beautiful country of Israel.
Toda raba! Kol ha kavod! Shmor al kesher!
From, Raj, Roo, Jamie and Aaron
(tour 29th October to 1st November 2018)
On Thursday, April 12, 2018, 1:41:55 PM GMT+3, Robert Stone wrote:
Dear Haggai,I am happy to provide the following wording."Haggai guided us with patience, and good humor throughout our pilgrimage.His knowledge combined with looking our needs was much appreciated.We should be happy to be looked after by him on future visits to Israel."I am copying in fellow pilgrims in the hope one or two can provide you with the group photo you requested.If anyone else can improve on my wording, or provide further wording for your website, I am sure they will be pleased to help.Best wishes,Robert StoneWinchcome Pilgrims